4 Cylinder Professional System
Thanks to its specially designed 4-cylinder system, it covers lamination films with excellent gloss without any burning and scratching at one time.
The dual front rollers heat and coat the films, while the rear dual roll system cools the films and covers documents in a smooth and perfectly glossy manner.
Film Coating Between 75 ~ 150 Micron
Thanks to the manual temperature adjustment latch, the user can select the thickness of the film to be laminated.
In order to coat lamination films between 75 ~ 150 microns (each sheet), it is sufficient for the user to turn the latch on the machine to the required heat position according to the film thickness.
It is specially designed for intensive use with its high speed lamination system compared to other models.
The Mühlen 4AF model has a 350 mm per minute lamination film coating and has a document entry width of 245 mm. Supported by 4 cylinders, the system provides extra speed.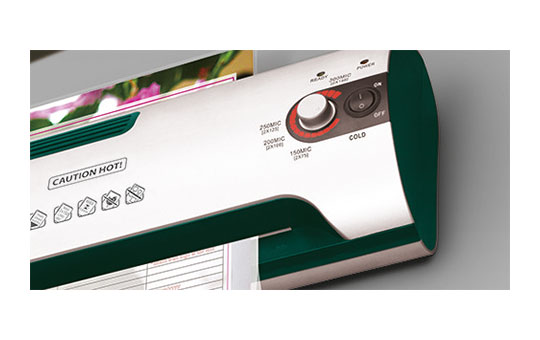 Automatic and Manual Stall Prevention
With the fully automated anti-jamming system, precautionary measures are taken to prevent jamming during lamination.
However, the user can easily remove the jammed paper at any time by means of the manual latch at the rear of the machine.