Stylish and Convenient Cash Drawer
The front part of our model is made of stainless steel.
The EU2550 cash drawer, which is very stylish and functional with its design, offers the desired organized space thanks to its removable and replaceable drawers.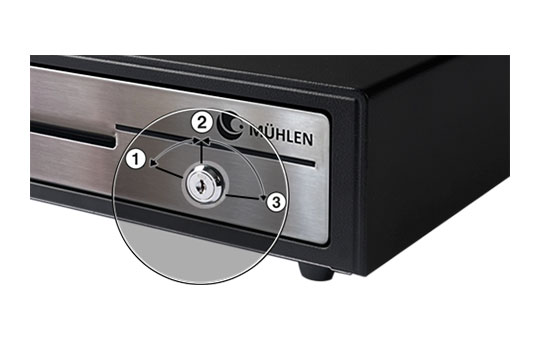 Maximum Security Maximum Flexibility
It provides maximum security to the user with its metal body structure and functional key system.
As a result of the 3-position switch, the user can open and close the drawer with the help of the switch, as well as providing the possibility to open it depending on the cash register.
Cash Register Compatibility
RJ11 port with 1.5 meter extension cable allows easy connection to all cash registers.
The cash drawer, which is activated and integrated without being inserted into the cash registers, can be opened automatically with the cash button on the cash register.
Big and Flexible Money Eyes
The Mühlen EU2550 cash drawer has 8 coin compartments, which can be changed by the user. However, the paper money bins have spring-claw metal claws which allow the coins to be fixed.